SR -Energy Saving Air Curtain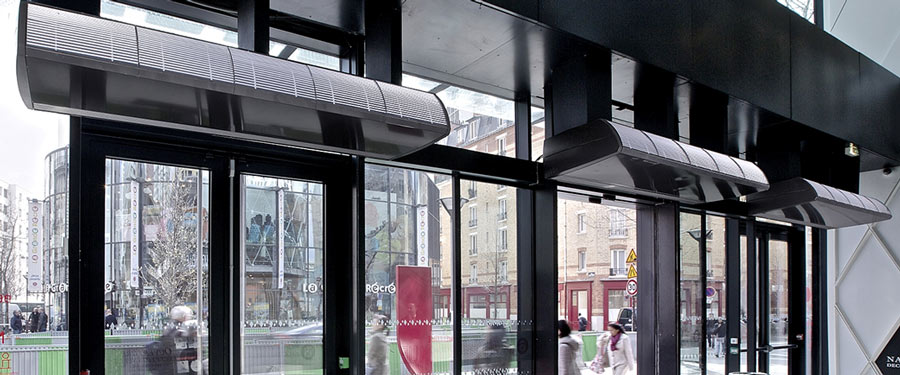 The Invisidor SR air curtain has been developed to deliver greater comfort than a conventional air curtain whilst providing considerable energy savings.

Using Biddle's patented rectifier and SR technology the Invisidor CA ensures that conditioned air is supplied at the optimum velocity, volume and temperature to meet the comfort requirements of customers of employees whatever the weather.

Control of the air curtain can be as simple or sophisticated as you require. Six strengths - a carefully controlled combination of discharge air volume, discharge air temperature and discharge air velocity – can be selected manually via a touchpad or a building management system. Timer clocks, door contact switches or room thermostats can also be integrated into the control strategy to ensure not just optimum comfort but optimum energy efficiency.

The flexibility in control means that whatever the conditions and whatever your control requirements the Invisidor SR air curtain will conserve energy by not just keeping warm air inside the building and cold air outside but by intelligently using as little power as necessary.

Designed with rounded profiles to suit the décor of any building, Invisidor SR air curtains are modular in nature enabling any door width to be covered with an attractive high performance air curtain. We're even able to provide solutions for revolving doors! And buildings with low water temperatures, from for example a ground source heat pump, can still benefit by using a specially developed 'hybrid' version of the Invisidor SR air curtain.
Specifications
| | |
| --- | --- |
| Mounting Heights | up to 4.0m |
| Unit Widths | 1.0m, 1.5m, 2.0m & 2.5m |
| Heating Medium | Water, electric, dx and hybrid |
| Styles | Free-hanging, ceiling recessed, bulkhead recessed, cassette |
Benefits
Increased comfort
Energy savings
Tried, tested and trusted over many years
Simple to install - plug & play
Control flexibility
Applications
Commercial, Retail, Schools & Public Sector eg. Department stores, supermarkets, restaurants, offices.

Brochure
Articles
» what actually happens in your doorway?